Table of Contents

On a Deakin Windows Computer
Solstice is preinstalled on your Deakin managed computer.
Click on the start button on your Deakin windows machine




Search for Solstice Client




On a Deakin Mac Computer
Solstice is preinstalled on your Deakin managed computer.
Click on Finder


Navigate to Applications




Select Solstice
On a non-Deakin computer
Ensure that your device is connected to the Deakin network via Wi-Fi (eduroam) or a wired (ethernet) connection.
The Solstice client software can be accessed by entering the IP address of the Solstice display host computer – visible on the Solstice display that you wish to connect to – into a web browser on the client device. This will be plainly visible on the solstice Splash Screen. The Solstice client will download directly to the computer ready for installation.
Alternatively, Solstice client software can also be downloaded and installed from the following link.


On a Mobile Device (Android and iOS)


If the Solstice client app has not previously been installed on the device, simply open a browser on the device and enter the IP address visible on the Solstice display. This will redirect iOS users to the App Store and Android users to the Google Play store to download the client software.
If you manually searching for the client app in the relevant store, please ensure you are searching for Solstice.

Connecting to the Solstice-Enabled Display

When in operation, the set of displays being published by Solstice Discovery Service (SDS) will appear in the application window, allowing users to simply click the intuitive name of the Solstice display and connect.
Windows, MacOS or iOS Solstice clients will look for the default (unqualified) SDS server solsticedirectoryservice if one is not configured. Specific configuration with a fully qualified address for the SDS is only required for Android clients as they will not resolve the unqualified DNS entry solsticedirectoryservice on the network. Upon first connection to a Solstice display, the SDS entry will be set in all client versions based on what is configured on the display.
First time users on an Android device can the user can launch the app and select the Enter IP tab.



Figure: Solstice Android client – Enter the Display IP address


Enter the IP address of the visible on the Solstice display and select GO.


In most meeting space configurations you will be required to enter the screen key provided in the lower-left corner of the screen.


Manually configuring the Solstice Discovery Service

Although not usually necessary, manual configuration of the Solstice Discovery Service in the client software can be done using the following method.


Select the settings icon on the client window.


Ensure the Solstice Discovery Service Address is set to sds.its.deakin.edu.au.


Close settings.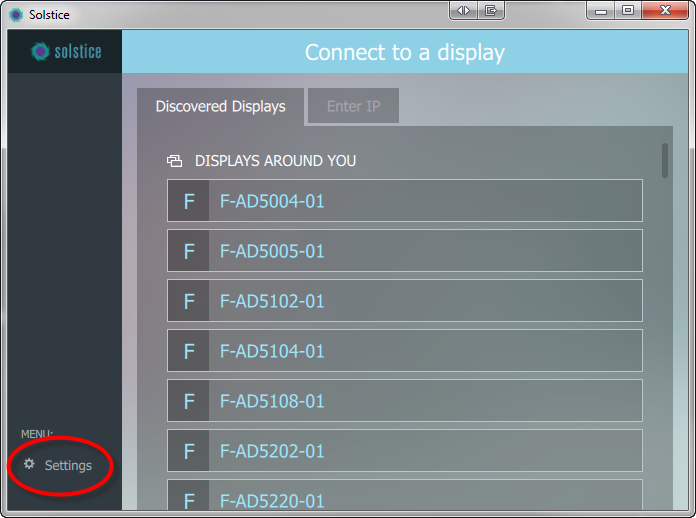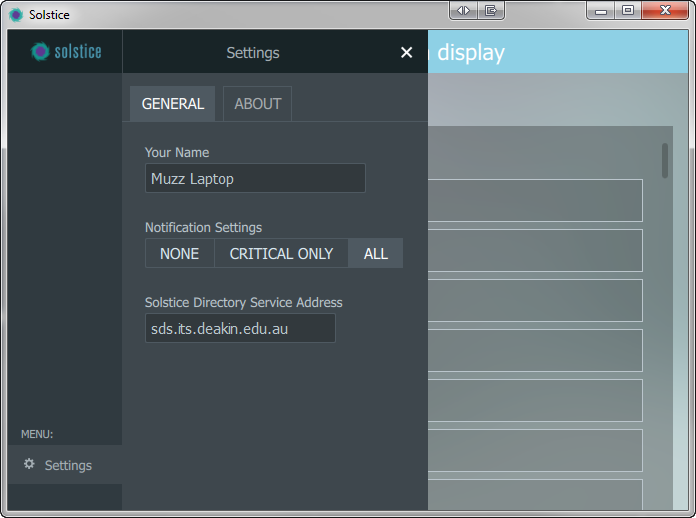 Figures 1 & 2: The Solstice Client settings icon & the Solstice Discovery Server Address