EndNote – Installation & Usage Instructions (Windows)
Deakin's preferred bibliographic software is EndNote for Windows and Mac. It is a database program that manages bibliographic references and allows them to be placed automatically in your Word document.
Please follow the instructions below to download Endnote and enable the EndNote toolbar in Word.


Interested in learning more? Visit our linking learning pathway on Getting Started with Endnote.

Please do not update your installation of EndNote if prompted, it may result in you not being able to edit content within the application. If you do update it and see this issue, please uninstall the application and reinstall it.
Table of Contents
Installation Instructions
Please ensure all your office applications are up to date and are closed before attempting to install EndNote
First, please visit the Deakin Software Library and search for "EndNote".

Otherwise, you can use the Categories sidebar and navigate to Mobile Apps > Teaching & Learning > EndNote.


On the EndNote page, scroll down to "EndNote 20 – Download for Windows", and select it.




Some browsers will automatically download the EndNote20.zip folder, if you are prompted to confirm the download, ensure to Save File, then select "OK".

This by default will save to your "Downloads" folder in My Documents.


Navigate to your Downloads folder (or wherever the EndNote20.zip folder was saved to) and right-click on the EndNote20.zip folder. Select "Extract All".



If you are using Windows 11, you will first need to click the "show more options" button in the right-click menu as seen below:



After that, the option to "Extract All" will appear.



Once the folder has been extracted, navigate through the extracted EndNote folders.

When you locate "EN20Inst.msi". right-click and install.




Do Not run any other file or installer, as these will not install the custom Deakin University referencing styles.


Windows 10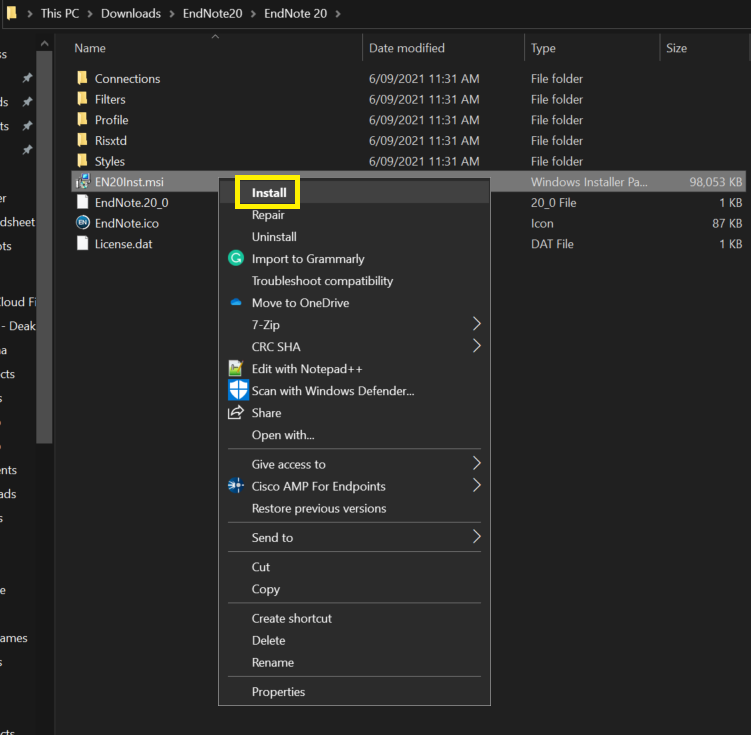 Windows 11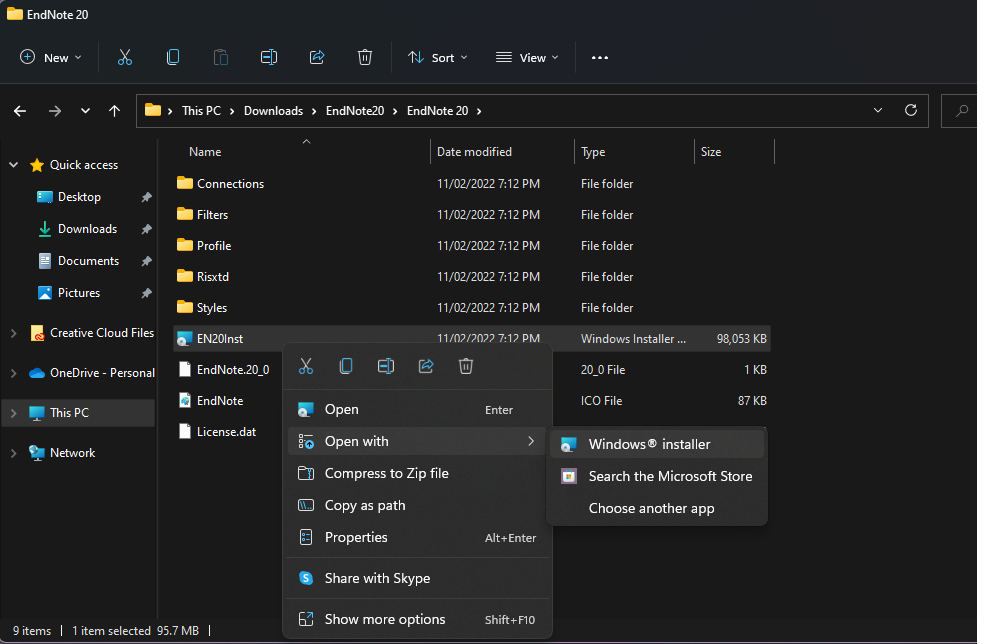 Follow the prompts the installer gives you, and allow EndNote to install on your device.

Usage Instructions



eSolutions does not provide assistance or instruction with using EndNote to reference or compile a bibliography. This section is ONLY for locating or enabling EndNote as an add-on.



Deakin Library is responsible for the instruction of using EndNote. to read more about using EndNote for referencing, please refer to Deakin Library's EndNote Guide.
Typically, Office 365 or other modern versions of Word will automatically enable EndNote. To verify this, open Word and assess if "EndNote 20" is an available option in your toolbar.

If it is not visible, and you have installed EndNote correctly according to the instructions above, please consult the following steps.
Click on the File ribbon and select "Options".




Click on "Add-ins", then navigate down to Manage and select "Disabled Items" from the drop-down menu. Click "Go".




Highlight any EndNote item(s) and click "Enable."


Click "OK". Restart your Word program to ensure that EndNote starts correctly.